Troubleshooting Your MP3 Files
(Written March 26, 2019)
You have purchased one of our MP3 audio files. Here are a few simple steps if you need help.
---
Email with Link
You should have received an email from geno@genostampora.com titled: Your Geno Stampora order is now complete. Within this email, in the third column, there is a link to download the file(s).
We have included both: individual mp3 files, and a zip file. Choose which file or files you would like to download. There is a 10-day limit to access the download*. All albums are folders of mp3 files which are then zipped into a single file for download.
---
Apple/Mac Products
Zip Files:
On a computer:
1. Download the zip file
2. To unzip: double-click the file
3. Result: you'll have a folder containing the mp3s
Once unzipped: you can then add those files to whatever you use to listen to music.
TIP: if you work on more than one computer or device, you may want to put your folder/files in the cloud (I use Dropbox), then your mp3s will be accessible from any of your devices.
For now, Apple doesn't allow direct download of ANY music or Mp3 to any iOS device except using iTunes. So if you've bought mp3s from anyone except Apple and you think something is wrong when you can't immediately listen to them. It's just Apple, not you and doesn't look like they are going to change anytime soon. So no instant gratification on iOS. You could get home, download the zip file to your cloud device or sync with your iOS (sync your MP3 files is the easiest method).
Access ZIP Files on your iPhone:
In order to unzip your files on your phone, you will need to rely on third-party apps. Below is the app we recommend based on ease of use.
1. Locate the zip file on your iPhone/iPad. Usually, attachments in the mail app might be zip files. Or you might have zip files in your Dropbox/iCloud Drive folder.
2. Once you know where the file is you can use the below application to unzip and listen to the mp3 files.
Recommended App: Evermusic
Within the app, you will access your file(s) on the phone. The app will walk you thru how to find your files. You will listen to the files within the app. This is not a solution to add the files to iTunes.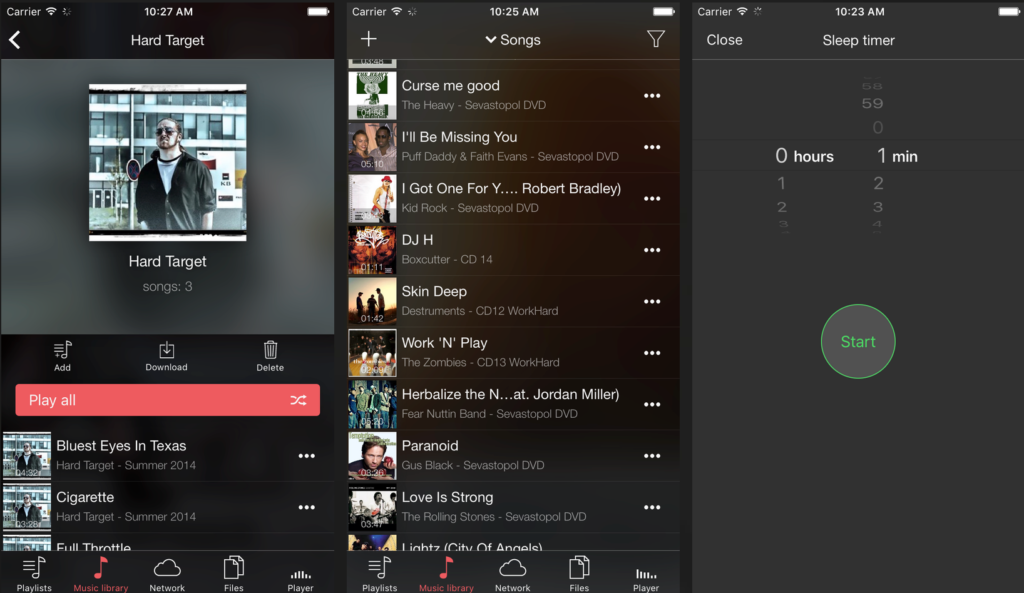 Here are two additional resources: 
---
PC Computer/Devices
Zip Files:
On a computer:
1. Download the zip file
2. To unzip, right-click the file and choose "Extract All"
3. Result: you'll have a folder containing the mp3s
Once unzipped: you can then add those files to whatever you use to listen to music.
TIP: Don't see an "Extract All…" option? Try renaming the file to something simple, like "genostampora.zip". The important thing is to make sure the name ends with ".zip". Then right-click it again. You should now see "Extract All" in the menu. If you still don't see an Extract All, option, double-click the file. This will open a window listing the files inside. Press Ctrl+A to select all the files, then drag them into a folder or onto your desktop. This will extract them, for sure.
That doesn't work either? You may be amongst the elite few who simply don't have unzipping software built into their PC. Try one of these free unzipping programs for Windows:  Zipeg or PeaZip.
On an Android/Windows Phone:
It isn't always straightforward to download music (in particular, album .zip files) directly to an Android device. If you're having trouble, try consulting the help tools for your particular device.
Simple download instructions
Download the .zip file.
In your downloads folder, tap on the .zip file to open it, and press Extract. If your phone won't open the .zip file, if it won't open, download an app like File Manager or something similar.
Open Play Music and listen to your mp3s.
If these instructions don't work, you may need to download to a computer first, then sync to your device.
---
Due to the fact technology changes quickly, we can not control the environment (age and technical health of your device, your technical abilities), we can not guarantee everything will work just so. We do however want you to enjoy your purchase. If after reading our instructions you are still not able to get the MP3 files to work please reach out to us. We will either issue you a refund or personally try to help you with a solution.
Email us at geno@genostampora.com